Blurb:
Though her bluesy voice can bring grown men to tears, Thelma Waters moves to Oyster Harbor for a peaceful life--avoiding singing and men. Anything to forget her wild youth as a performer, so addicted to fame she'd do anything to get it. When Tom Lewes--Oyster Harbor's remaining bigot--hires her as a lounge singer to save his failing restaurant, he stirs up more than her old talent.
His obsession with profits reminds her of every man who used her, especially the one who shattered her heart. Meanwhile, his grief over his daughter's death intensifies when restaurant renovations uncover a shocking secret. Reminding her of the child she lost so long ago.
And as soon as Oyster Harbor restores what Thelma has craved for so long, her dreams of family are ripped away, turning her song of joy to the bluest of blues. Will Tom be the answer to her prayers, or her biggest heartache yet?
Playlist:
Private Dancer by Tina Turner
~
Let's Make a Baby by Billy Paul
~
Nightlife by Ray Price
Goodreads
Buy Now:
Amazon
iBooks
Nook
Kobo
Excerpt:
Tom Lewes, the proprietor, stood there with his arms crossed. The man looked as crabby as he had the day she'd met him. She blinked, adjusting her sun-filled vision to the darkness--black mourning clothes, the shadows behind him, and raven hair. Wavy and thick, it begged to be stroked. The irises of his green eyes even looked dark.
"You're prompt, at least," he said, stepping back. "Come in."
"Thanks. Uh, where can I set this tablecloth?"
He indicated the empty dining tables with the sweep of a hand. "Anyplace will do."
Some had dingy tablecloths and some had none. If she got the restaurant's laundry business, she'd have her work cut out for her. She chose a table next to a window and set down her load.
"Let's see what you've got."
He all but shoved her out of the way to get to the goods, and his words sent a wedge of heat between her cotton day dress and her skin. Mr. Lewes, you wouldn't be able to handle what I've got. Before she could stop it, a giggle escaped her.
He glared at her. "Is something funny?"
"No, sir," she replied, unfolding the tablecloth she'd laundered as a test. "It's kind of dark and gloomy in here, though."
Scowling again, he held the fabric to the light from the window, turning it this way and that. His hands, strong and a little rough, told her he rolled up his sleeves around here and pitched in. She couldn't help picturing his fingers working her dress instead.
Obviously, I've been without a man for way too long.
"I-it's...spotless," he uttered, sounding as if he couldn't believe it.
"I told you I'm good."
"The work is yours." He folded the tablecloth and named a price. "How does that sound?"
Cheap! Did he think she was desperate? Or worthless? "Too low."
"Oyster Harbor is a small town," he said, crossing his arms again. "It's the best rate you're going to get from me."
His voice, crisp and clipped as a dose of heavy starch, ran roughshod over her nerves.
"Well, the hospital's laundry does keep me pretty busy," she said as she tapped her fingers against her cheek.
His arresting eyes, topped with bold, dark brows, bored through her. "I'll pay you what I said for the first week. If I'm satisfied, we'll see about increasing the rate."
"Fair enough."
"Good. I'll show you to the laundry room."
She held up her hand. "Aren't you forgetting something?"
"What?" he barked, stopping in his tracks.
"My dinner? You promised if I could get the stains out of that tablecloth, you'd give me the best seafood meal on the house."
"I remember. Would you care to pick it up at six this evening?"
"Didn't I make myself clear before? I don't eat out of boxes like a dog. I want to dine right here...with you."
Her cheeks burned. Had she really said those last two words? He might be a total crab, but from what she'd gathered, he was also a decent, hardworking businessman. Exactly the type of man she admired. He wasn't hard on the eyes, either. His broad shoulders and narrow waist filled out his black shirt and trousers right well.
He cocked his head. "Why on earth would you want to dine with me?"
She shrugged. "I'd like to get to know you better. After all, we're going to be working together."
"After I show you the laundry room, you'll know everything you need to about me."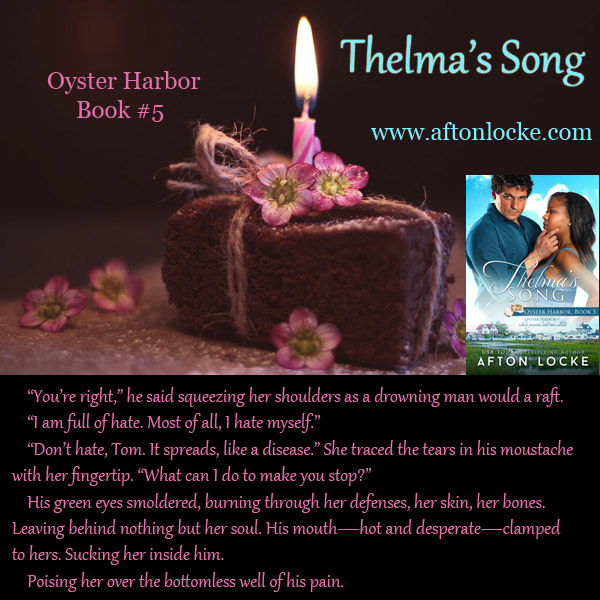 Jolly Rancher by Siera London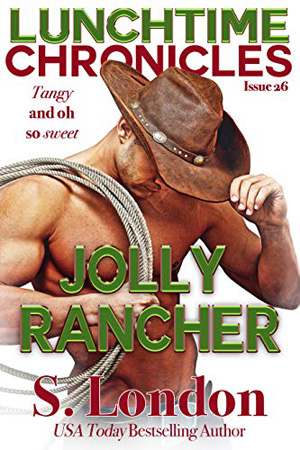 Blurb:
Enemies to lovers. A grinchy cowboy. A gossip columnist. A night to remember...or forget. https://geni.us/JollyRancher #FridayReads #bookaddict #iamreading #Kindle
Diesel Conrad
Amanda says we're enemies--I call bull.
My mind is a bit tangled after my fall, but my gut tells me this woman is mine.
Granted, I've forgotten some insignificant sh_t, like my name, but I'm certain of two things.
She wants to get naughty with me, and I have the equipment to give her a very merry sleigh ride.
Amanda "Messy Mandy" Murphy
All I want for Christmas is my winter white vacation, but my twin sister's grinch of an ex-boyfriend roped me into selling his ranch before Christmas.
The arrogant, too gorgeous man is my personal bah humbug.
Or at least he was until the accident. Now--he's convinced I'm his.
It's messy, and I'm going to need a Christmas miracle--fast, because his mistletoe kisses jingle all my bells.
Buy Now:
Amazon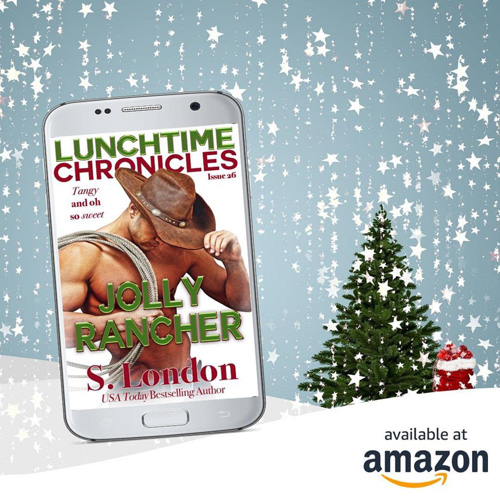 --------------------------------------------------------------------------------------------------
Sinfully Hot by Tina Donahue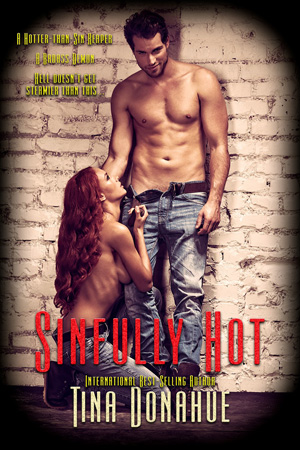 Blurb:
A hotter-than-sin reaper. A badass demon. Hell doesn't get steamier than this.
Zekiel owns the newest nightclub in the French Quarter. The decadent atmosphere draws the corrupt, their blackened souls just what he likes to reap.
Jewel is not amused. Not only has Zekiel cut in on her territory, Satan's gotten hardcore, upping her quota. All hell's going to break loose if mortals don't start selling their souls to her.
The race is on. Zekiel claims victory and wants Jewel as his prize for one evening. Nothing forbidden. Nothing denied. In other words, the whole enchilada, including voyeurism and BDSM.
After the first promising look and lingering touch, they're goners...even though they're supposed to be competitors.
This book was previously published in a box set.
Buy Now:
Buy Links