Afton Locke Newsletter #31
February 2021

Are you ready for a thriller? Find Me
releases today! After reading a lot of romantic suspense, I finally decided to dive in myself. We all need some excitement to get through the end of this endless pandemic. Something emotional, sizzling, and scary! The research was as much fun as the writing. This month, I'm also pleased to share releases from other great authors.
So, how is everyone?
Enjoying the new pandemic lifestyle? Or beyond sick of it? For me, a mixture of both. When it began, I adapted easily. Now, I'm so done with it. We lost our beloved 15-year-old cat this month, and being stuck at home with all the reminders is not so easy. My job security hangs by a thread. I am BURNED OUT. Empty. Getting through each day. Happily, my older loved ones are vaccinated, so some much-missed social bonding can resume.
Things to appreciate ~
simple comforts
: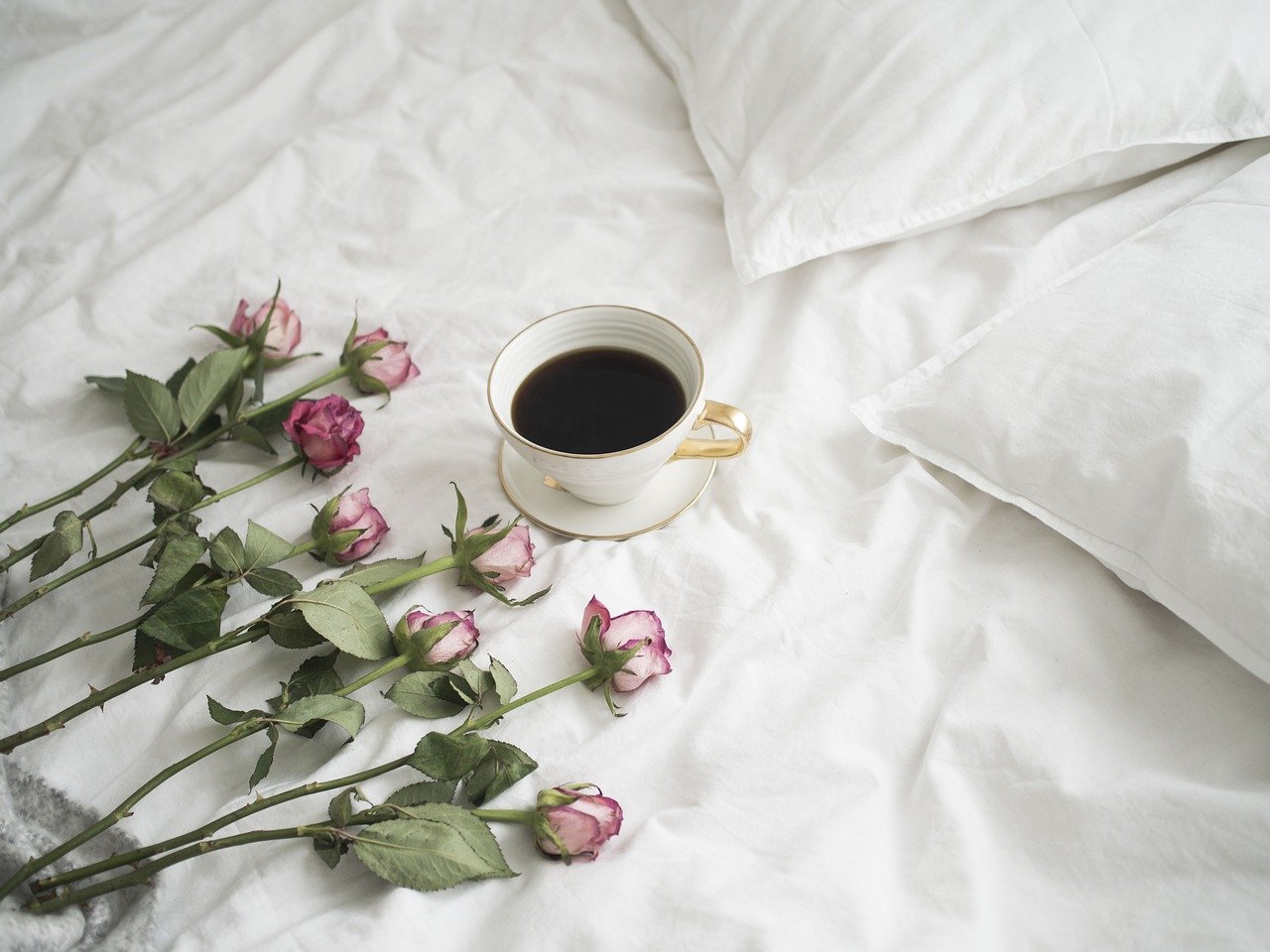 New Release
Blurb:
Paradise in the Florida Keys...
After 2020, Delia Sloane struggles to keep Rainbow Falls Resort afloat while grieving the loss of her father and husband. She refuses to let her Key Largo slice of paradise--a haven for non-mainstream couples--die. But when a serial killer begins attacking her guests--leaving a single dreadlock on each victim--everything spins out of control, including what's left of her family.
Hides a killer...
After her brother's experience with police brutality, the last place she wants to turn to for help is law enforcement. Scarred mentally by a deadly force incident, Detective Will Peterson has avoided homicide cases. But only he has the skills to drill into the elusive killer's twisted mind.
And it just got personal...
When a hurricane strikes, exposing the horrible truth behind Delia's losses and threatening everything she holds dear, trusting Will may be her only hope. Are they up to the challenge?
Playlist:
Escape by Rupert Holmes
~
Abacab by Genesis
Meet the villain! character interview
~
Goodreads
Buy Now:
Amazon
iBooks
Nook
Kobo
Excerpt:
They waved goodbye, and she took the path branching toward her villa. As soon as she left the bar, darkness swallowed her, making her wish she had Jamal or Will with her. She fished her key out of her pocket so it would be ready.
As she walked, footsteps followed, but every time she turned around, nothing. The crickets singing mocked her, practically drowning out everything else.
Having Jamal free again must have put her emotions—and all five senses—on meth.
At last, her villa came into view. She unlocked the door to her suite quickly and locked it equally fast behind her. Then, she flipped on multiple lights. The wind got a little stronger, waving palm fronds around, which sent flickering shadows across her balcony like long, bony fingers.
When an unusual object caught her eye, she opened the sliding door to investigate. Another shadow rippled across the concrete, drawing her eye to the railing. Something dangled there, waving in the breeze.
She stepped through the doorway, her heart nearly stopping when she discovered what it was.
A long dreadlock.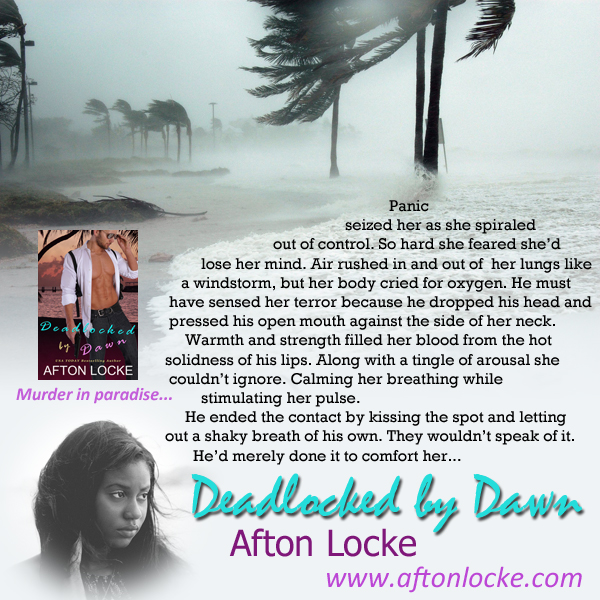 Giveaways!
Facebook Party
Join me today at the
Crossroads Reader's Group
for a little Facebook afternoon party ~
3 - 4 PM EST
. I'll be giving away a prize!
Crossroads Reader's Group
~
Want to sample
Deadlocked by Dawn?
Since January 31st, I've been posting snippets of the Prologue on Twitter, one day at a time. Check it out!
Afton's Twitter
More Great Reads!
recent I/R releases:
My Stormy Valentine
by Phoenix Daniels
Lobsters, Bisques, and Berries
by Olivia Gaines
Reclaiming His Queen
by Sage Young
Jackson
by LaQuette
--------------------------------------------------------------------------------------------------
Hard Lust by Tina Donahue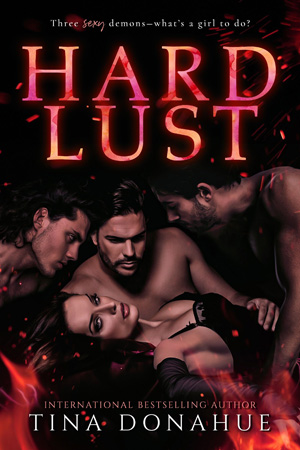 Blurb:
Three sexy demons--what's a girl to do?
Don't ever trust a demon. Unfortunately, Megan has learned that lesson too late. The deal she made to save her sister's life--has landed her in Hell temporarily and about seventy years early. And now she has three sexy demons trying to tell her what to do.
Nope. Not going to happen.
These guys have never had to deal with such defiance. Andros figures she's due for some erotic discipline, which he'll happily provide. Racan's pure alpha, his hardcore plans include bondage and submission. Quiet yet intense, Vespar expects endless kink to spice up their carnal play.
Who would have ever expected she'd end up falling for them? Too bad demons can't be trusted...because someone is trying to kill the magic and threatening her stay in this lusty world.
Buy Now:
Amazon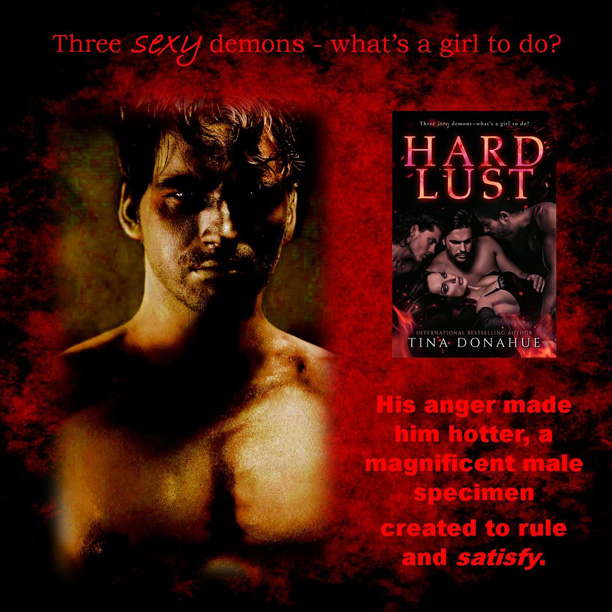 Travels
I'm suffering from travel deprivation. I need it the same way I need oxygen. Luckily, we were able to take our annual summer beach vacation to North Carolina. The inn where we always stay implemented rigorous COVID protocols and has rooms with private access. We even brought our own microwave.
Thankfully, we were able to find outdoor dining. The second night we tried it, though, a massive rainstorm hit while driving to the restaurant. I was so disappointed. We'd dressed up, and I was so sick of carryout. But by the time we arrived, the rain was gone and the sun was out -- reminding us there's light at the end of the tunnel.
My favorite reading spot there: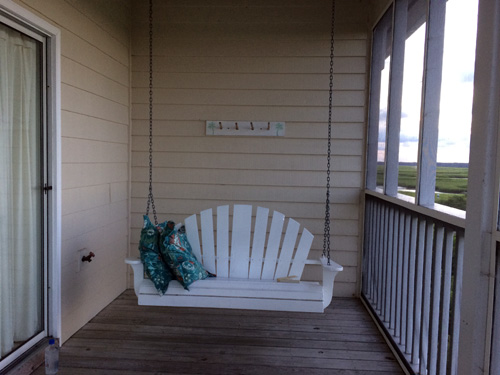 The
Interracial Romance Authors Expo (IRAE)
got canceled last year, but it's on this year. If I don't get vaccinated in time, I won't be able to attend, but here's hoping you can. NEW DATES: 4/28 - 5/1
IRAE website

Coming Soon
~ The muse is contemplating a cozy mystery. I could use some humor now. How about you?
Afton Locke is a USA Today Bestselling Author who writes outside the box. Her trips always inspire her, sometimes years after they're over. She lives with her husband, usually surrounded by animals, both wild and domestic. When she's not writing, Afton enjoys hiking, cooking, reading, and watching retro T.V.
Thank you for reading! Feel free to
email
any comments or suggestions. Until next time...
© Afton Locke 2021